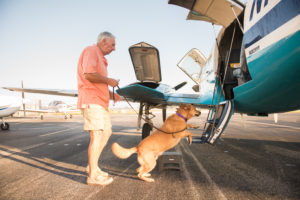 Aztec Airways loves furry friends!
All of our flights are pet friendly. Just a few things to keep in mind:
You can add your pet to your reservation when you book online at www.aztecairways.com
IMPORTANT: All animals must have current and appropriate documentation for international travel, including a microchip. Please click here for details
Your pet(s) will accompany you in the cabin during you flight.
We require a dog crate and/or muzzle to be handy in case it is needed.
No pets are permitted to travel on Aztec Airways flights unaccompanied.
Fees: (each way)
10 pounds or less, carried in a soft-sided type carrier (that can be held in your lap) – $25 (each way)
10-35 pounds (with crate) $100 fee (space permitting only, each way)
Over 35 lbs: The pet will accompany you in the cabin during your flight. For our larger furry friends, we will take out a seat so that there is plenty of room for them to sit by you.
Please WALK YOUR DOG prior to boarding the flight.
Click for Bahamas Pet Regulations and Information